Case Study: Fuse Fitness Studio
Jason Zawodniak was studying to be a physical therapist for several years before he transitioned his work into his passion, and opened FUSE Fitness Studio. His studio in Pittsburgh Pennsylvania has been operating since 2007 and has been met with great success. Jason says using Fitness Website Formula has been an essential aspect of his studio's success.
FUSE Fitness Studio is a privately owned fitness studio in Pittsburgh, Pennsylvania that is one of the most sought after gyms in the area, despite not being affiliated with a franchise or corporate chain. 8 years ago, Jason made the choice to stop studying physical therapy (although he is now certified) and stepped into the world of fitness and weight loss, his real passion. He has always loved helping others in both their physical and mental health, so personal training was the natural choice. He is still training today because he loves to serve his community with a quality service and loves to see quality results as well.
Jason says, "As most people know, your website is most people's first impression of you. Before FWF we would use cheap sites that were a complete waste of time." He made the choice to work with Fitness Website Formula in 2009 and since then has launched three separate websites. Before working with FWF, he claims his "cheap" websites were a complete waste of time and "didn't rank well on the search engines nor got people interested in our services."
"I've had a dramatic increase in clients since I started working with FWF several years ago. Our website is always one of our best lead generators every month." -Jason Zodwaniak
In today's fitness world, obtaining new clients can be a challenging endeavor. However, with a visually appealing and innovative website, gathering new leads can become much simpler. "I believe this will vary depending on the trainer but not many things can beat getting face to face with as many people as you can every week. While personal relationships and referrals are #1, our website is always #2."
Jason has seen a dramatic increase in clients since he launched his FUSE Fitness Studio website in 2009, and claims his website is always one of the best lead generators each month. "I'm not sure what the exact number is, but we've had hundreds of folks come through our program after learning about us from our website." This increase in online traffic is is due to FWF's comprehensive search engine optimization.
"On each occasion their team has over delivered with the product and customer service. In addition, the fees are extremely reasonable compared to their competition." -Jason Zodwanaik
Overall Jason has been extremely satisfied with websites made with Fitness Website Formula. "On each occasion their team has over delivered with the product and customer service. In addition, the fees are extremely reasonable compared to their competition." The future looks bright for FUSE Fitness Studio, as they will continue to improve the quality of their programs and overall customer experience to ensure their clients are getting the best results possible.
We want all of our clients to be just as satisfied with their website as Jason is! We are here to convert your leads and take away some of the stress of online marketing so you can spend more time on what is important: working with your clients and changing their lives.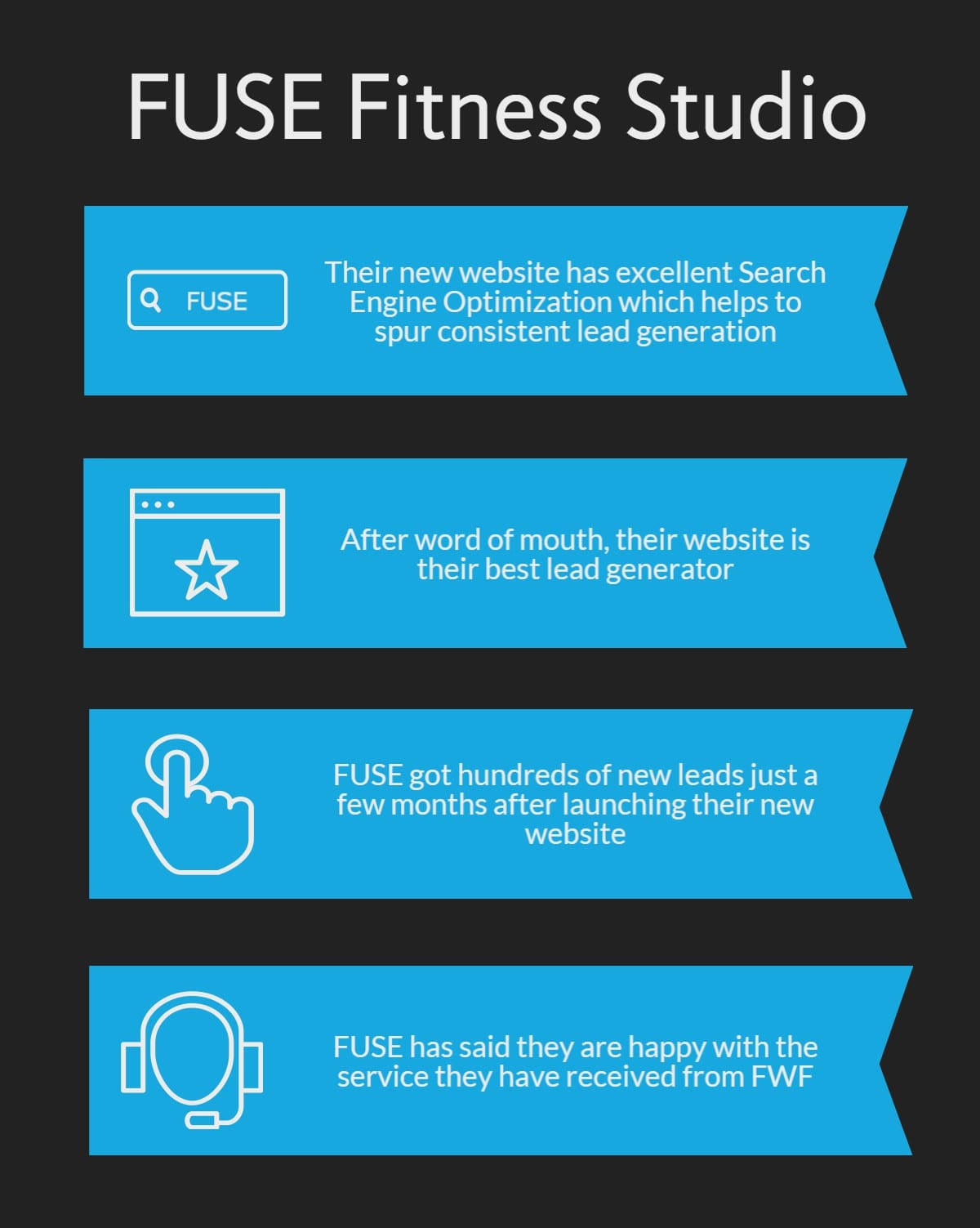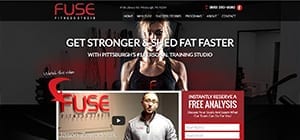 Takeaways
:
Jason has a quality website he is proud of and gave him the results he is looking for.
Working with us has removed his "cheap looking" and "website that didn't rank well on search engines" and has given him a quality product that is search engine optimized.
Jason believes your website is an integral aspect of producing more leads, and his new website has helped him do just that.
He has seen hundreds of leads due to people finding his website online.
He is satisfied with the quality of the site and believes the price is extremely reasonable compared to competitors.