Case Study: Way of Life Boot Camp
Positivity and encouragement through body and mind transformation are some of the values that Way of Life Boot Camp implements into their fitness facility and weight loss regimen.
On an average day, you can find Forrest Folen, part owner of WOLBC on the training floor yelling out positive messages to his trainees. You can see team members encouraging each other with smiles and high-fives.
Forrest calls the lobby of WOLBC facility the "Lobby of Dreams" where clients come, bringing their dreams and goal. The training floor, or the "Reality Room" is where "reality happens and where people take action".
He and and his team take physical fitness a step further by aiming to inspire and impact lives through optimism and incorporating physical changes of weight loss with mental and spiritual ones.
"It's literally a different world," Forrest said. "If you walk in from the outside and you first come into where we train, you might say, 'people don't act like this in the normal world.' In our training center, everyone just knows that we are there to uplift everyone else."
Forrest reported that WOFBC's profits were averaging $5,000-7,000 a month before using our services.
"Today, on a consistent basis we gross $30,000 or more a month", Forrest said.
That change occurred in just a little over two years.
In addition to being featured on Oprah's newsletter, WOLBC has been awarded Best Weight service in Oceanside, California for the last two years. As of now their clients have lost more 10,000 pounds of weight.
Before reaching out to us to help with marketing and web design, Forrest said he tried to do all the marketing, fitness website design, and personal training by himself.
"That just led to more headache, loss of money, loss of confidence in myself," he said.
When talking about his old business website, which he created himself, Forrest chuckled ironically saying it "looked like it was from the days of AOL",  that it was "wasn't professional" and "did not flow".
"Outsourcing to Shingo and his team was a key component in building my business." -Forrest Folen
Forrest has used our marketing and website services since May 2013. After hearing about our services, recommended by Bedros Keuilian at the Fitness Business Summit, Forrest decided to sign up with us.
In conjunction with getting a "clean" and "graphically beautiful" website from us, he also got one that was highly effective and functional. He said leads and clients can now easily navigate his site, unlike before. Forrest went from getting 2-3 occasional emails from prospects at random times to receiving between 5 and 20 opt-ins a day, since using our services.
Last December, Forrest challenged us to create a new website for his online product, 21 Day Detox Challenge. He wanted it to be "Oprah ready" and have a cool look for leads being referred to his website from Oprah's newsletter.
The site was launched in early October. He says the new site has "a new level of sleekness".  He said we not only met WOFBC's expectations for the new site, but far exceeded them.
Forrest says he has been "thrilled" and "ecstatic" with the service he has received from us.
"In any type of a project there's a 1001 things and I'm just so impressed that Shingo and his team are able to not let anything fall through the cracks to address everything. At the end of the day it gets done. I highly recommend them," Forrest said.
His advice to other fitness industry professionals is a lesson he learned with his own business:
"Invest in someone who knows what they are doing. That way you can be working on your business and not trying to be a jack of all trades where things start to look sloppy, which is what I tried to do."
We like to know that our services are making a difference in our clients lives. We are proud that we were able to help be part of WOFBC's business growth, creating what Forrest calls a "ripple effect", a spreading of optimism, hope and change throughout the Oceanside community.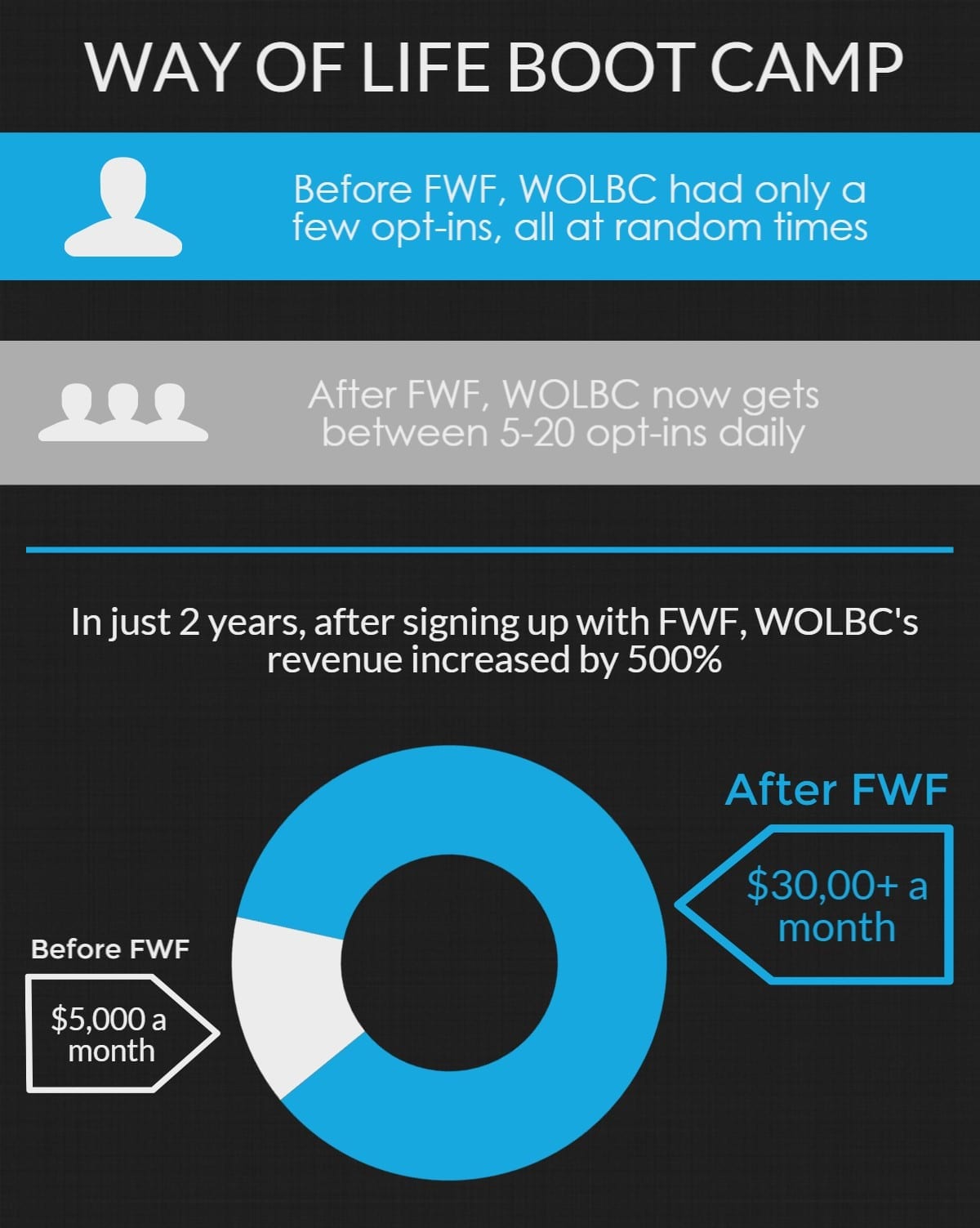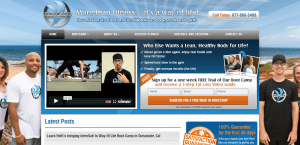 Takeaway:
WOLBC had inconsistent lead conversions before FWF, now Forrest says he gets between 5 and 20 opt-ins a day
After our services WOLBC reports their revenue is $30,000+  a month – a 500% increase!
Forrest says WOLBC's site flows and is graphically beautiful
His new website is "Oprah ready" and has exceeded his expectations
Forrest says he has been grateful for the service he has received from the FWF team