Holiday/New Year's Landing Page
During these holiday months sales promotions are a STRATEGIC way to boost your business. Most consumers are swamped with holiday shopping so they'll jump at any opportunity to save some money!
To help take advantage of the season we're creating a special holiday landing page for our Elite and Master clients. This page is filled with testimonials, images, and persuasive copy that are all designed to attract customers to your door.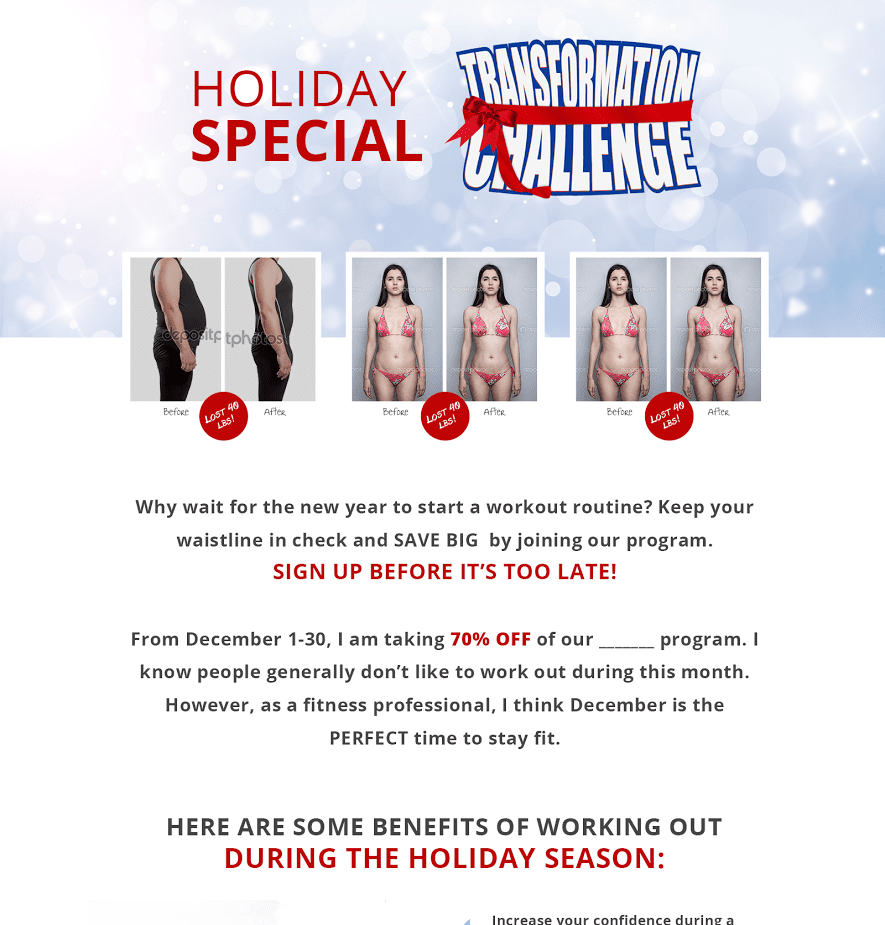 Check out our new "Holiday Transformation Challenge" page. Essentially we are communicating the importance of staying fit DURING the holidays, as opposed to starting a routine AFTER the new year (like the majority of people). Isn't it better to stay in shape rather than having to get back into shape?
Benefits of a holiday sale:
People are looking to reduce the stress and extra calorie intake that comes with the holidays
Consumers are in the spending mindset and LOVE a good deal, especially with savings up to 70%
Workouts are addicting; these holiday customers can turn into year-round regulars
Attracting customers during this time shows persistence and dedication and is sure to build your reputation!
Why wait until the new year to promote your business? Use our custom-built landing page to get a head start on your competition.
Want another way to take advantage of the holidays? check out our 2017 Business Ignition Offer.