Mobile App Marketing 101: Customer Retention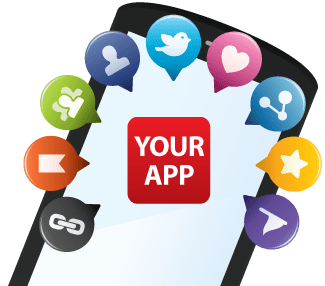 Look around and take note of how many people are on their phones. It will be almost everyone. In today's age we are connected to our mobile phones at the hip. So as business owners, shouldn't we be utilizing mobile resources for client retention?
Mobile App Marketing is a simple but highly effective way to retain your current clients by connecting with them on their most used piece of technology. Speaking literally, you will constantly be in your clients hand and on their mind by having a mobile app for your business.
One of our new Fitness Website Formula services is a personalized mobile app. This app will allow you to:
Build a long-lasting customer relationship
Increase customer retention
Share "member-only" content
Send real time notifications via push notifications
We will be going into details of how the above work, but let's take a look at the possibilities of mobile app marketing in regards to customer retention.
Consumers are flocking to their mobile phones for information at an overwhelming rate. Audiences are currently spending a significant amount of time per day and that rate is constantly speeding up. According to SEO and Marketing Blog, MOZ, in December 2011, the average person spent 94 minutes per day on their mobile devices and one year later that number has jumped to 127 minutes per day.
Using mobile devices to increase client loyalty is more effective than just having the website for people to view on their phones. Adobe's Digital Marketing Report stated that mobile app users are more loyal to a brand than they are by simply visiting the website on their mobile phone.
People spend an average of 24 minutes in an app, versus 13 minutes on smartphone web sessions
App usage outpaces mobile web visits by an average of 100 minutes per month
As you can see, mobile apps are the most effective way to reach your clients because they target them in the most convenient way. It is much easier to click onto an app than to search through the Internet on a mobile device, so taking advantage of mobile resources is in all business owners best interest.
There are three key ways to increase customer retention and maintain relationships on a mobile app:
Provide an easy outlet for customers to provide their feedback. Many customers want to give their ideas and opinions on your business and giving them the opportunity to do so drives their investment in your company even higher.
Allow space for customer research that is beneficial to your company and makes your customers feel involved. Asking your audience specific questions about products, practices or anything else provides you with detailed and constructive responses to help better your business. In addition, people feel involved when their opinions matter to the company and asking them these questions through a mobile app is simple and convenient and they will be more inclined to participate.
One-on-One communication and personalized messages attract clients and keep them using your app on a regular basis. In this day and age, generic business messages are ignored and seem highly outdated. By utilizing a mobile app, your business is able to personalize messages and connect with clients through technology. Mobile apps are the closest thing to face-to-face communication because they allow open conversations and personalized interaction.
Unlike social media platforms, mobile apps allow you to promote "member-only" content, promotions and events. There are times when information is not relevant or able to be sent out to the online world, but your customers still need to be reached with it. Since mobile apps are more engaging to consumers, they will be more inclined to check that then they will be to open your email blast. Mobile apps allow you to share what you need with certain groups and get your important information across on a private platform only for your clients.
Sending notifications on your mobile app is another effective way to maintain customer retention. In your personal life, you check your social media sites and apps after you get a notification because it draws your attention back to it. Notifications keep you on your clients mind even if they are not actively keeping up with the app.
With our new Fitness Website Formula service, we wanted to provide our clients with the capability to use a mobile app for their business. We are confident mobile apps will increase the success of your business and be a significant addition to the online presence we create for you. Given the many positives of mobile app usage, we knew this was a service our clients needed in order to continue beating their competition.
Reach out to us today and start up your mobile app. You will be shocked at the level of customer retention and engagement this service will provide.
Takeaways:
People are spending increasing amounts of time on their mobile devices
More time is spent on mobile apps than on mobile web searches
Customer retention is maintained through personalized messages and opportunities for feedback
Mobile apps provide an easy way to perform customer research
You can promote "member-only" content to your current clients through an app
Push notifications keep your business on your clients mind
Mobile app marketing is convenient for your clients and your business
We are offering mobile apps with our new Fitness Website Formula service!!