Holiday Workshop/Seminar
Why Should I Do It?
Fairly Easy

– It is a one day workshop, so it's not a long commitment, unlike the Challenge.

Timing

– Perfect for the holiday season!

Lead Generation

– Potential to bring in new clients who come to the workshop and are interested in learning more and getting involved with you and your business.

Flexible with Your Space and Budget

– Depending on where you are hosting it, you can bring in as many people as your space can hold. It is also flexible with how much you want to spend. You have the option to provide no food, serve limited food or a provide a full-course meal. It all is up to you and your budget!

Community Involvement  

– You have the opportunity to partner with a local business or nonprofit in your area to help promote your event. Maybe you can donate a percentage of your proceeds to them. Incorporating the community into your plan could add to the success of your workshop.
Consider These Before Committing…
Know Your Material

– It is a seminar so you must do research ahead of time and be familiar with it in order to present it accurately and effectively.

Have Participants RSVP

– You will probably want participants to let you know if they can make it or not. You'll want to know based on your hosting space and how much food to prepare.

Planning is Key –

The more time you give yourself to plan, the better the outcome!
---
Marketing Planner
*Hold Holiday Workshop either once or twice on the same day of your choosing*
Sample Landing Page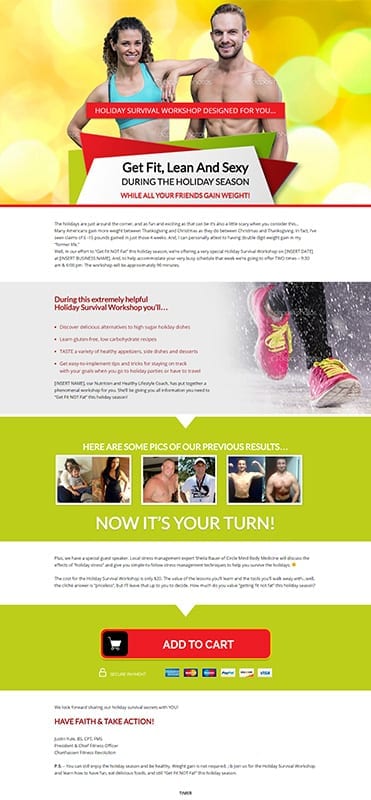 Ready to Prepare Your Promotion?
Let us know which marketing we can help you prepare for by filling out the form below.