Transformation Challenge
Why Should I Do It?
Word of it will spread easily – Clients will tell their friends/family about it and it could create social media buzz and generate more participants.
Lead Generation – It has the potential to convert prospects into clients after they participate in the challenge.
Social Proof – This challenge is based on time and results, so you and your participants will easily be able to see a quick transformation.
Consider These Before Deciding…
Timing – There's a good and bad time to run this challenge. Avoid the holiday season when potential participants are out of town. It's great to do this at the start of the new year when participants are wanting to start on their new year's resolution.
Promotion – A lot of work goes into promoting it; make sure you give yourself enough time to market it!
The Bigger the Better – The more participants you get to join, the more successful you'll be. Again, give yourself enough time to promote it – this will help generate more participants.
---
Marketing Planner
>= 1 Month: A month before starting the challenge send out Email #1 announcing when registration will begin.
3 Weeks: Send Email #2 about three weeks before challenge with link to the landing page so that people can start signing up.
2 Weeks: Two weeks before challenge starts post a reminder on Facebook that registration is open and link to blog post where people can sign up
1-2 Weeks: About one week before challenge start send out Email #3 and start creating a 'scarcity' for the amount of spots left open for the event.
2-3 Days: A few days before challenge starts post to Facebook that it's the absolute last chance to sign up for the challenge and link to blog post. You may repeat it on every day until the start date.
*Run the Challenge for however long you decided — We suggest 6 or 8 weeks.*
Sample Landing Page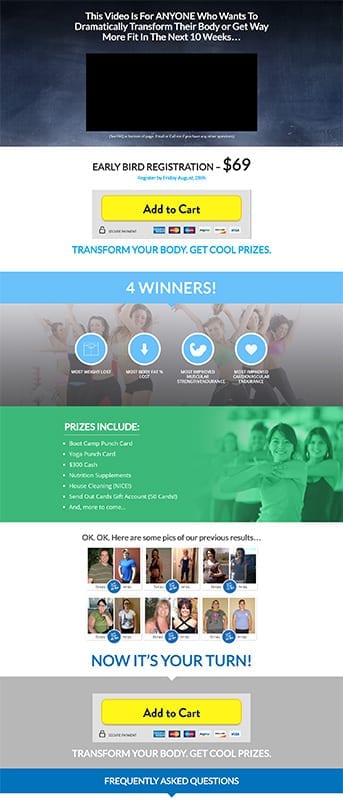 Ready to Prepare Your Promotion?
Let us know which marketing we can help you prepare for by filling out the form below.